L' avventura a due ruote nella meravigliosa terra sarda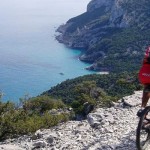 Andare per monti pedalando è un'emozione che sempre più persone apprezzano, perché è un modo divertente e appassionante di fare escursioni per coloro che desiderano unire lo sport ciclistico all'amore per la natura. Andare in mountain bike partendo dall'Agriturismo L'Aglientu ti consentirà di scoprire nuovi percorsi MTB immersi nella natura selvaggia, e di pedalare per lunghe ore in perfetta sinergia con l'ambiente che ti circonda. Insieme ai tuoi amici o alla tua famiglia scoprirai la Sardegna in MTB, il suo lato più sconosciuto e meraviglioso. Il nostro Agriturismo a Olbia vi mette a disposizione le migliori cartine per le vostre escursioni in Mountain Bike nelle vicinanze partendo dal nostro B&B a Loiri oppure vi propone i migliori contatti per organizzare le vostre gite nelle altre zone della Sardegna. Non è previsto il noleggio Mountain Bike presso l'Agriturismo L'Aglientu B&B Loiri Porto San Paolo, ma vi indicheremo su richiesta dove noleggiare mountain bike per le vostre escursioni. Ricordate per partecipare alle escursioni in MTB in Sardegna occorre essere in possesso di adeguata attrezzatura e indossare un abbigliamento appropriato, in particolare ricordiamo l'obbligo del casco e raccomandiamo di mettere in atto tutte le misure necessarie per proteggere la propria e l'altrui incolumità. La vostra bicicletta può essere parcheggiata all'interno del nostro giardino.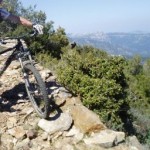 Go for mountain biking is an experience that more and more people like, as it's a fun and stimulating way to make excursions for those who wish to combine sport bike and love for nature. Mountain Biking Sardinia starting from Agriturismo L'Aglientu will allow you to discover new mountain bike trails surrounded by wildlife, and ride for hours in perfect synergy with the environment around you. With your friends or your family, discover Sardinia in mountain bike, you will discover a wonderful world. Our B&B in Olbia provides you with the best maps for your excursions in Mountain Bike in the nearby starting from our B & B in Loiri or we will give you the best contacts to organize your trips in other areas of Sardinia. There is no Mountain Bike rental at Agriturismo L'Aglientu B & B San Teodoro, but we will show you on request where you can rent mountain bikes for your excursions. Remember: to take part in mountain bike excursions in Sardinia you must have appropriate equipment and wear appropriate clothing, in particular, we recommend the use of helmets and to take all necessary measures to protect your own and others' safety. Your Mountain Bike will be safe in our garden.
Risorse e approfondimenti: Guida alla Sardegna in MTB