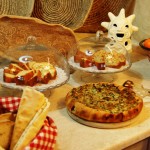 Breakfast is certainly a very important time to start off the day, charging  the right energy means getting ready to enjoy all the activities you are planning, so you are invited to relax and taste our nice breakfast. Our ITALIAN breakfast is rich and assorted, mainly made up of local or farm produce. We privilege the taste and genuineness of our products, fresh bread, homemade jams, pies and tarts of our production, as well as yogurt, which we prepare according to the old grandmother's recipe. And then butter, honey of our own production, cereals, biscuits, fresh fruit. Fresh milk, coffee, espresso and cappuccino on request, tea, juices are the drinks that you can choose freely. Carasau bread, a typical Sardinian bread, is one of the local products most appreciated by our guests.
For those who follow other eating habits or want to change the traditional Italian breakfast with something different, there are fresh eggs or cheese, tomatoes grown in our vegetable garden and extra virgin olive oil from our production.
Breakfast is served in the large covered veranda. Here you can bring your PC to use Wi-Fi service, available for free to all guests. Access to the lounge is free at any time of day and night.